Posted on September 15th, 2008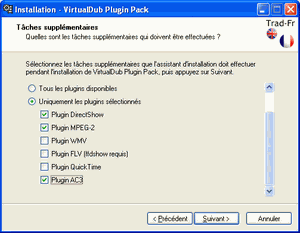 The VirtualDub Plugin Pack (VDPP), v1.0.0.6 currently, is virtualdubfr.org exclusive.
It is a pack including the most commonly used input filters, available both in English and French.
The user can select one or more plugins to install, then the setup will copy the needed files to VirtualDub install directory and modify some registry keys if needed.
A future version will auto-detect plugged USB drives with U3 technology or PortableApps Platform and if so, will allow user to chose on which VirtualDub install (standard, U3, or PortableApps) the selected input plugins will have to be activated.
Tip: the setup version of VirtualDub available on this website first check for a local (same directory as "VirtualDub.exe") "VD_plugin_pack.exe" file and, if detected, will then use it without trying to download it on Internet. It may be useful for a CD-ROM distribution, a silent install, or an install on a computer without Internet connection.
Tags: plugins32, silent, VDPP, VD_plugin_pack.exe
Filed under Plugins | 8 Comments »
Posted on September 12th, 2008
Hi everybody!
After several months (years?!?) to prepare this project, it's now time to publicly release the resource website for VirtualDub: www.virtualdubfr.org !!!!
You will find there some explanatory posts, how-to guides, support forums, and (of course) some files to download.
The download page gives you access to some EXCLUSIVES resources for VirtualDub: the latest available version with the corresponding source files, some portable versions (U3 and PortableApps), many input plugins put together as an easy-to-use Plugin Pack for VirtualDub allowing to support many new input formats, and the latest available version of VirtualDub-MPEG2 and VirtualDubMOD (version 1.5.10.3, EXCLUSIVE too) for nostalgic people or thoses still using Windows 95.
The website is not completed yet. I have to add many how-to guides and some downloads, add some features, but I didn't want to keep you waiting for a longer time.
So, please enjoy your visit, enjoy your downloads, thank you Avery, and…
Have Fun 😉
Sparad0x
[Edit on Saturday 09/13/08 at 5:00pm: a bug in the download platform corrupting the downloaded file has been fixed. Any file downloaded before this date is invalid and has to be downloaded again]
Tags: ouverture, site
Filed under News | No Comments »